This view manages your Album Collections handled by the database. Each Collection represents a Root Album Folder containing your photographs or videos. Usually the root folder will contain sub folders. All these folders we call Albums. How to work with them, create, delete, rename them etc. is described in detail to the Album section.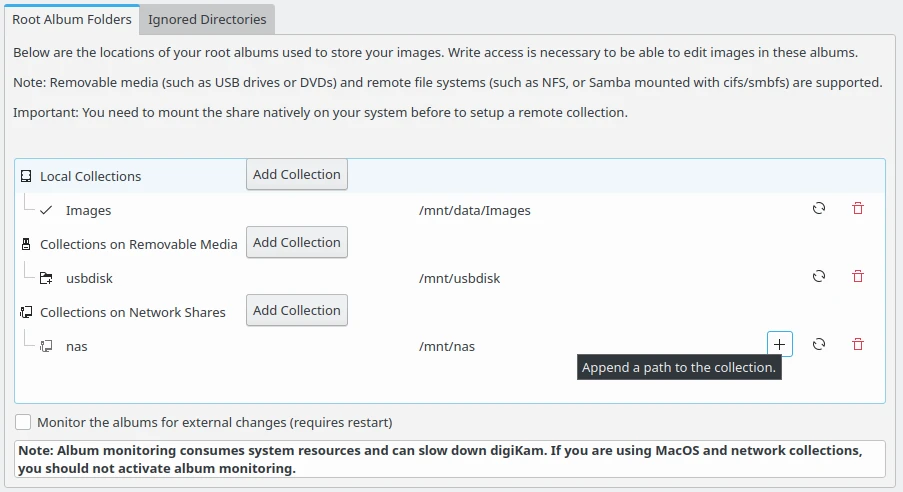 The Root Album Folders list three types of collection which can be referenced in digiKam:
Local Collections: these are root album folders stored physically on your computer drives.

Collections on Removable Media: these are root album folders stored on media which can be removed from your computer, as USB keys, external drives, DVD.

Collections on Network Shares: these are root album folders stored remote file systems as Samba or NFS and mounted as native on your system.
For each type, the Add Collection button allows to append an entry in the list. Entry properties are the root album folder Name and the root album folder Path.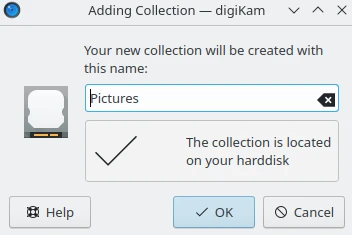 To edit the properties of an entry, use the Update button on the right side of the path. To remove an entry, use the Red trash button on right side.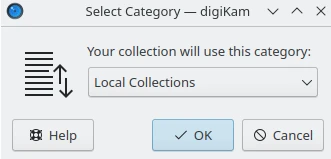 Important
The Monitor the Albums for External Changes option will trigger the database to update information. This can be a time-consuming operation especially under macOS and with network file system.
Note
File write access in collection is necessary to change items contents and metadata.
The Ignored Directories view allows to setup the list of the directories to ignore while scanning collection contents. The directory names are case sensitive and must be separated by semicolon.